| | |
| --- | --- |
| | Travel Diary |
Day 3 – Athens to Santorini

Early morning start today to catch our 7.30am ferry where we tried to grab a couple of hours sleep as it's a 9 hour ferry trip to Santorini. Managed to get a couple of hours and spent the rest of the time writing postcards and playing cards.

Arrived in Santorini around 5pm where as soon as we stepped off the ferry we were bombarded with Greeks trying to entice us to their Hotels. It was totally mad, never seen anything like it. We were expecting a few people, but I'd say there would have been at least a 100 there!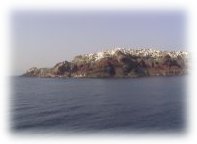 We jumped on our coach for a 30 minute windy mountain ride trip to our Hotel, which was gorgeous. We raced to our room to dump our bags and put on the bathers before diving in the pool, aaaahhh what a relief after our long trip. The only disappointment at this Hotel was the lack of air conditioning in our room – not even a fan! Then sat back to experience a few of the special Cocktails that the Pool Bar whipped up for us, before we headed out for our first night in Santorini.



<< Day 1 Day 2 Day 3 Day 4 Day 5 Day 6 Day 7 Day 8 Day 9 Day 10 Day 11 Day 12 >>