| | |
| --- | --- |
| | Travel Diary |
Day 12 Ė Mykonos to Athens

Last morning on the Island now and were starting to get depressed knowing that our awesome holiday was almost coming to an end.

We finally got some service (a rare thing) from the waiter in the Hotel and ate some lunch before heading off on the coach for our last ferry ride (6 hours long) to Athens.

Our ferry was late leaving so we didnít make it back to our Hotel in Athens until after 10. To amuse ourselves we played cards whilst consuming copious amounts of beer! Many others from our group joined in and at the end of the ferry ride, there was an impressive 25+ scrunched up cans on the floor. It certainly made the 6 hours pass quickly!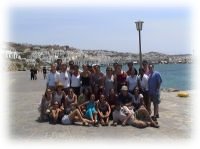 We had our last Dinner together in Athens tonight. Most of our goodbyes were said tonight with a few at breakfast the following morning. Some of the group were flying home early Saturday morning so they were just going to stay up and go straight to the airport.

It was sad saying goodbye to everyone as we all got along really well and had had such a wicked time away partying together.

Until next time...



<< Day 1 Day 2 Day 3 Day 4 Day 5 Day 6 Day 7 Day 8 Day 9 Day 10 Day 11 Day 12 >>